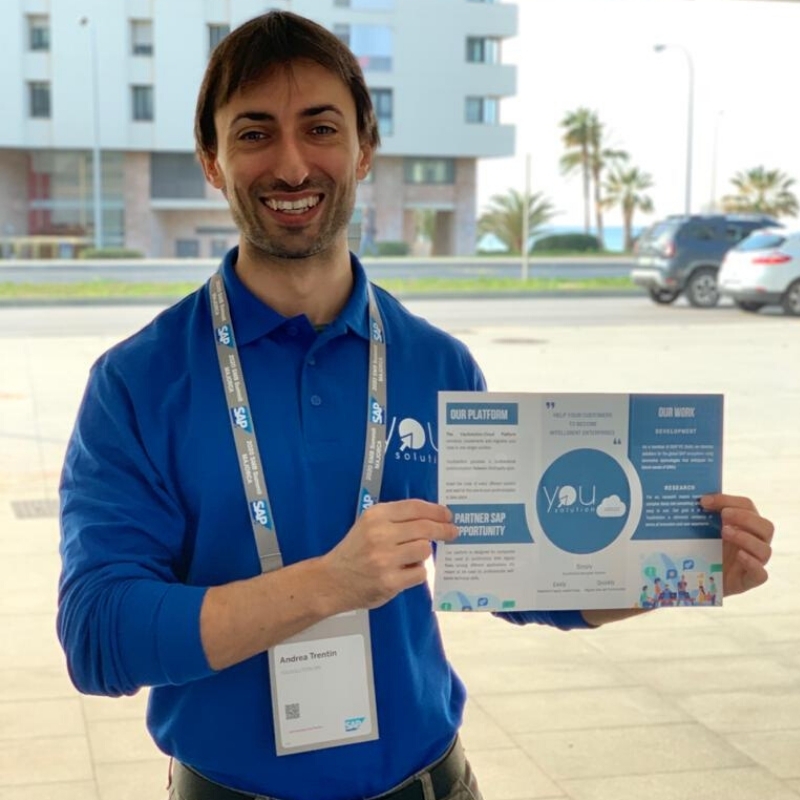 From a Dream to a Solution
In step with increasing globalization and digitalization, the world keeps changing. We live in a rapidly evolving world, and the competitive landscape for businesses is a tough place. In order to stay competitive and successful, companies need to rely on systems which enable them to be flexible and quick to respond to external changes and constantly be a part of the innovative development that occurs around us. Nevertheless, they need to be able to do this without spending too much time and effort.
The YouSolution Integration Hub Platform grew from a dream of transforming complex ideas into something simple and easy to use; a dream of a single solution that could achieve a lot, and at the same time be quick, easy and simple to use in today's ever-changing world.
How it all started …
Andrea Trentin, CEO of YouSolution.Cloud, has always been passionate about innovative technologies. On his free time, he used to study, create, innovate and explore new technological solutions on a daily basis. Eventually, this passion transformed into a dream of one day creating his own solution. In this way he could do what he loved, and at the same time, help other people and companies to become successful. One day he decided to make his dream come true and turn it into an actual solution. This was the starting point of what was going to become YouSolution.Cloud.
In 2018 YouSolution.Cloud was born in Vicenza, Italy. Not long after this establishment, Andrea extended his team with a R&D responsible: Dario Chemello, and a developer: Luca Ramanzin. Together, they started to collaborate and develop YouSolution.Cloud to create the best solution possible to meet partners' and customers' needs in today's digitalized and evolving world.
The dream had finally become a solution.
Andrea Trentin at the SMB Innovation Summit 2020 in Palma de Majorca.
What is YouSolution.Cloud today?
Today, the development of YouSolution.Cloud has resulted in an Integration Hub Platform that can connect, implement and migrate data in one single solution. The platform can synchronize legacy flows between all kinds of web services and loosely coupled systems. This enables a bi-directional communication between third-party applications.
The main goal of the platform is to avoid manual data entry and related errors, which is done by letting different applications talk to themselves without any kind of human intervention.
The following illustration gives an overview of how the YouSolution Integration Hub Platform works:
YouSolution.Cloud can be used by all types of small and medium-sized companies, no matter of which sector they're operating in.
How has YouSolution.Cloud helped Partners so far?
As a member of SAP PE Build, YouSolution.Cloud develops solutions for the global SAP Ecosystem. Although, the platform is also capable of connecting loosely coupled systems without the involvement of SAP.
So far, the YouSolution Integration Hub Platform has mainly helped partners in the Food & Beverage Sector. Here, the platform has been used for integrating software like B2B shops, WMS software and other APPs with SAP Business One.
Furthermore, the solution WTSOne has been built as a proof-of-concept to demonstrate the capabilities of YouSolution.Cloud, you can read more about it here.
What's next?
Our next step from now will be to continue developing and improving the YouSolution Integration Hub Platform to constantly meet our partners' and customers' needs. We strive for providing these people and companies with innovative technologies that will help them to stay successful and competitive in today's digitalized and evolving world. Moreover, we aim for anticipating the future needs of SMEs, and develop solutions accordingly. Our goal is to make YouSolution.Cloud a reference company in terms of innovation and user experience.
We'll continue to explore new markets, new sectors, new companies and new systems with YouSolution.Cloud as an Integration Hub Platform. This is just the beginning, and we hope that you'll follow us on this exciting journey when we continue transforming our dream into a solution that can help people and companies worldwide.
For more information, download our flyer or contact us directly by clicking on any of the buttons in the footer below.