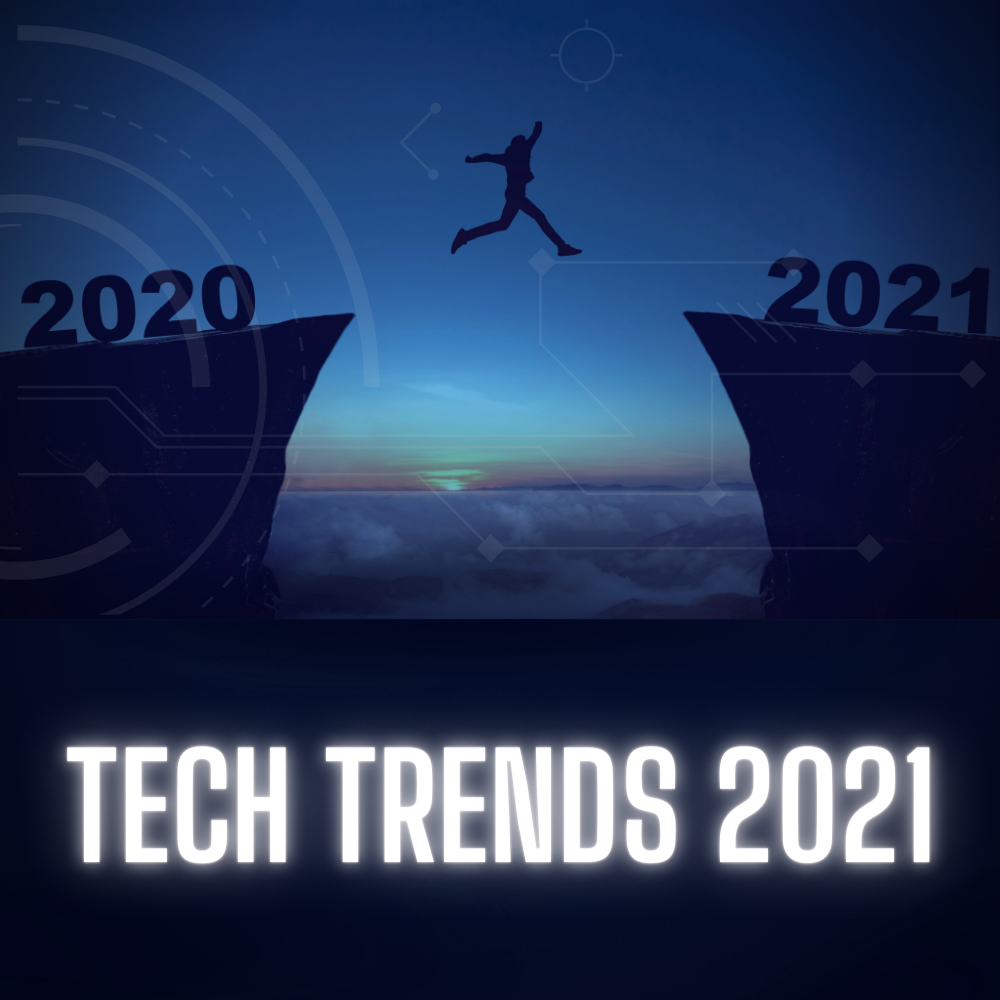 A New Year with New Technology Trends: Welcome 2021!
2021 has arrived and we're curious to explore what we can expect from it. What will be the opportunities for companies this year? To answer this, we'll highlight some of the key technology trends of 2021 and explain how YouSolution.cloud can help companies to capitalize on these.
Strategic Technology Trends 2021
Digital transformation is no longer a norm, but a need. Due to the changed business conditions created by COVID-19, companies need to accelerate digitalization and embrace new technologies more than ever.  Even though this may seem challenging, it also opens for innovation and exciting opportunities. That's why we can expect some really interesting tech trends from this year!
Gartner has listed nine tech trends of 2021 (you find them here). We found three of these strategic technology trends extra interesting and will explain them further below:
1. Anywhere Operations
As the name indicates, an anywhere operations model allows business operations to be accessed, delivered, and enabled anywhere. Therefore, stakeholders like employers, business partners and customers can do their work wherever they are and physically remotely. This is clearly a trend that has become needed for most companies today due to the changed business conditions created by COVID-19.
2. Intelligent Composable Business
Changed business conditions have also required companies to adapt and fundamentally rearrange themselves on a short notice, and that's what it means to have an Intelligent composable business. Since digital transformation has been crucial for most companies' survival nowadays, the ability to be agile and make quick business decisions informed by currently available data has become vital.
3. Hyperautomation
Hyperautomation takes the "normal" automation one step further: it's simply the idea that anything that can be automated in an organization should be automated. Once again, this is related to the acceleration of digital business strategies and digital transformation, which in turn requires efficiency, speed and democratization of business processes. Companies that don't focus on these factors risk to be left behind.
What do These Trends Have in Common?
Gartner concludes these trends by summarizing them under three common themes which are: People centricity, Location independence and Resilient delivery.
People centricity means that people are at the center of all businesses and that they need digitalized processes to function. Location independence is the shift of where stakeholders physically operate and the need of a technology shift to support this new way of business. Finally, Resilient delivery highlights the volatility that exists in the world and the need to adapt to external disruptions and new conditions.
How Can YouSolution.cloud Help Companies to Capitalize on These Trends?
Since the YouSolution platform is located on the cloud, it facilitates the adoption of the new technology trends we can expect from 2021. First, this is because the cloud can be accessed anywhere which enables location independence and anywhere operations. Second, the cloud is a flexible alternative that allows businesses to effortless scale up or down. This makes it easier to quickly respond to external changes and conditions, which in turn makes resilient delivery smoother and enables an intelligent composable business.
The YouSolution platform also helps companies to embrace new technologies and innovations by easily integrating different systems. The platform does most of this work by itself with minimum interaction of the user. Hence, this is nearly an automated digitalized process that practically enhances people centricity. Also, since new technologies easily can be integrated, companies can quickly adapt to new technical needs and business conditions which once again corresponds to an intelligent composable business with resilient delivery.
2021 will surely be an interesting year in terms of new business trends, technologies, and innovations. We're looking forward to continuing helping our partners to accelerate business strategies and adopt digital transformation. 2021 we're ready for you!