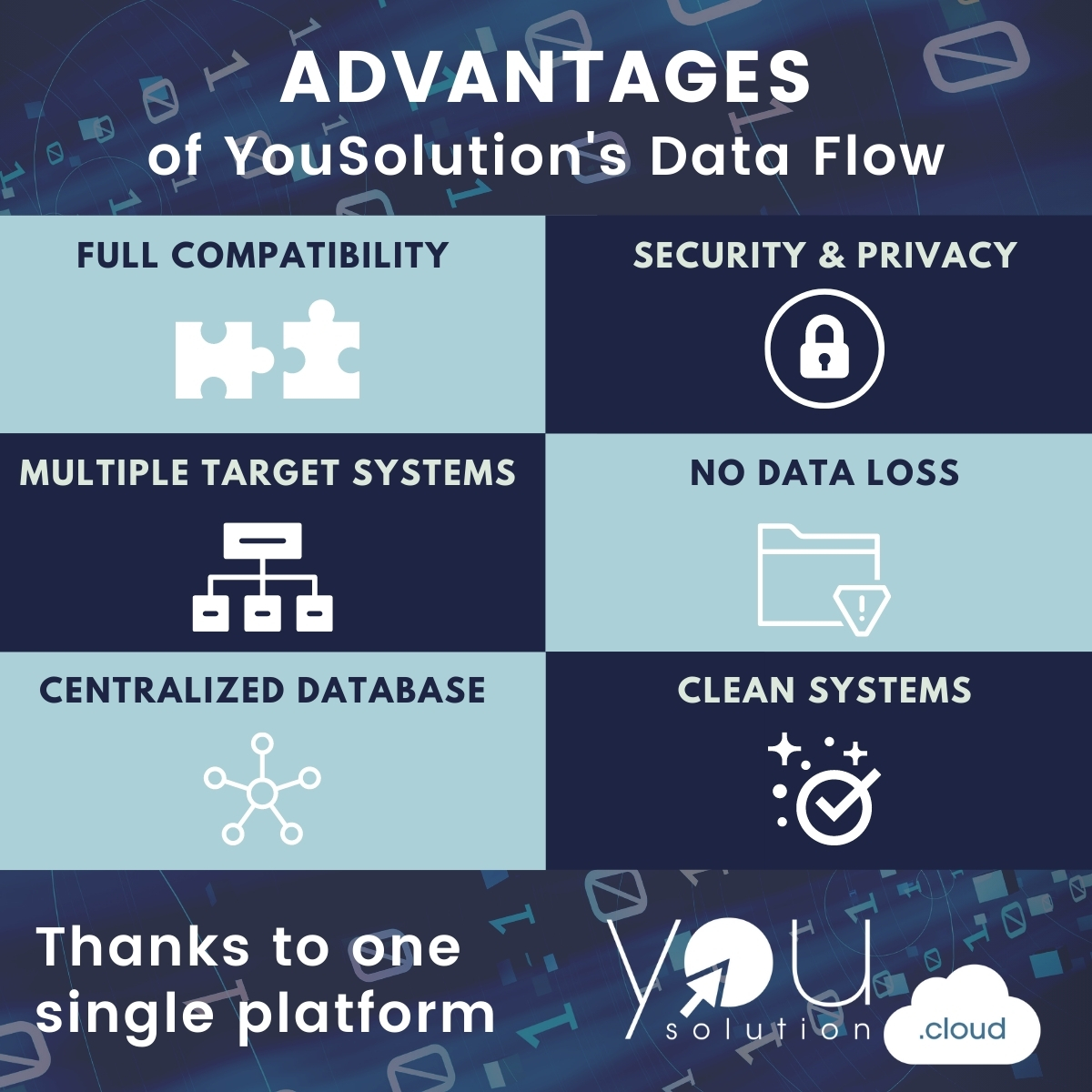 The Advantages of the Data Flow
In our last blog post we showed how data are flowing between decoupled systems before and after it gets synchronized in the YouSolution Integration Hub Platform. In this blog post we'll take a closer look at the advantages of synchronizing data in this way, and explain how YouSolution makes this process simple, easy and secure for partners and clients. 
How does YouSolution support Simple, Easy and Secure Data Flows?
Full Compatibility
The YouSolution Integration Hub Platform can synchronize data from all kinds of web services and decoupled systems. In this way, partners and customers can focus on flexibility and constant development by embracing new innovations and technologies based on each company's specific needs.
Security & Privacy
YouSolution.Cloud highly values security and privacy of data flowing through the Integration Hub Platform. Therefore, all moving data within the platform are encrypted, even with limited visibility for the user. The same applies for the enqueued data. Moreover, the external data flows move through a secured HTTPS protocol which protects the information further.
Multiple Target Systems
In our last blog post we used a practical example to demonstrate how the data flow through the YouSolution Integration Hub platform. In this example the source system was an E-commerce, while the target system was SAP Business One. However, let's say that we would have needed to integrate the order from the E-Commerce with other systems as well. This is made possible by the YouSolution Integration Hub Platform since it enables easy management of multiple target systems.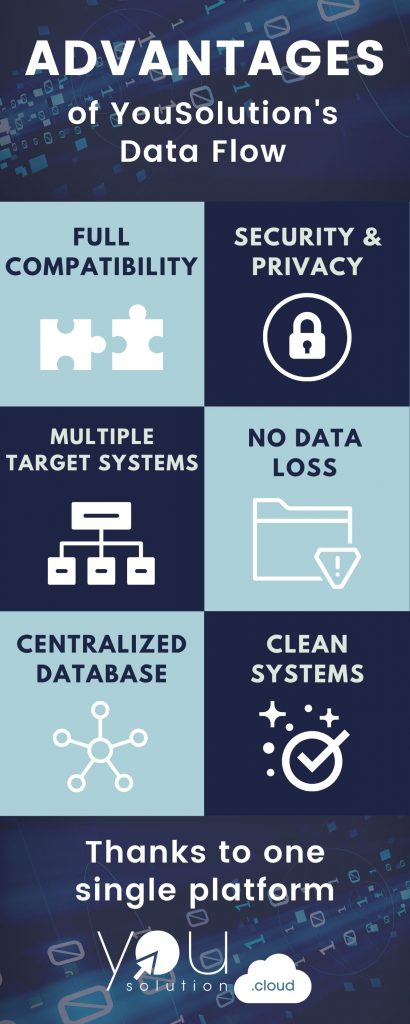 No Data Loss
As mentioned earlier, the data flowing in and out from the YouSolution Integration Hub Platform get enqueued. Therefore, data will never get lost even though the source or target system would go offline for any reason.
Centralized Database
Since all integration projects are centralized within the YouSolution Integration Hub Platform, the user doesn't need an additional and external database to make references between the synchronized data of the involved systems.
"Clean" Systems
When synchronizing data with the YouSolution Integration Hub Platform, the user doesn't need to change the structure (on a data level) of the systems involved in the integration project. This is also because of the fact that the integration projects of YouSolution are completely centralized within the platform.
YouSolution.Cloud aims for providing an excellent User and Customer Experience for partners and clients by supporting Simple, Easy and Secure data flows. In this way, partners and clients can focus on Business Growth and embrace Digital Transformation without any obstacles.